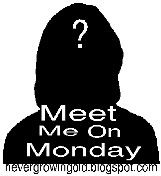 Questions:
1. What do you put on your hot dog?
-BBQ Sauce, Relish and Home made Horseradish! YUM!
2. Do you play Sudoku?
-I used to when I owned my tanning salon. I would play on slow day in-between customers.
3. What is your favorite vegetable?
-Corn
4. Do you color your hair?
-Um...Not really sure of the original Color, it was a dark drown to black. But currently I color it and its shade is somewhere between Brown to hazelnut with Carmel or Blonde highlight. I really depends on what Gretchen thinks looks good. She never lets me down.
5. What is your favorite brand of clothing?
-CowGirl Tuff!