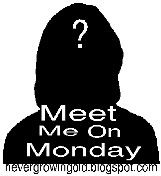 Questions:

1. Do you like your ice cream in a dish, waffle cone, pretzel cone, sugar cone or cake cone?
-Waffle Cone or Waffle Dish. I usually brake the cone or dish apart and use it as a scoop or spoon.
2. Do you read the newspaper daily?
-No. I do read the local newspapers that we get delivered to the house. The Hutchinson Leader and Herald Journal.
3. Marinara or meat sauce?
-Marinara. I love anything tomato. Meat kinda kills the flavor.
4. Last time you cried?
-Wednesday. My baby had his Tonsil and Adenoids taken out and the recovery was not and is still not going well. When everyone left his room and it was just him and me, I asked my grandpa to guide my son to recovery. I found out later that my son did the same. We both were crying.
5. What word/phrase do you find really annoying?
-"That's what she said!" had to be my most annoying saying. My son and Husband say it all the time and it bugs the crap out of me.