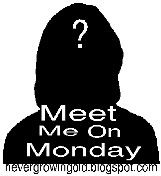 Questions:
1. What is your favorite way to eat potatoes?
-Mashed!
2. What was the last package that was delivered to your house?
3. What is your favorite scent that you love to smell?
-My Husband.
-Nope Never, Ever. I never even tried a puff!
5. Are your parents married or divorced
-Married for 39 Year March 3rd! Congrats Mom and Dad!