I'm compiling a list of Awesome Buttons along with their Kick Butt blogs. Go and Check them out!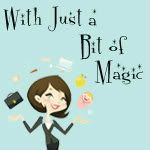 Jackie over at With Just a Bit of Magic is my Long Time BBB-Best Blog Buddy. We connected over the SITS 31 day Blog Challenge last summer, and have been BBB since.
I connected with Social Nicole first via Twitter then we met in real life at OMS-Online Marketing Summit last summer. Let me tell you she is a wealth of knowable when it come to Social Media and Non-Profit.
Daria over at Mom in Management is a blast. She sent me an email and we hit if off from there. She lives in Colorado-and that makes me a bit jealous.
Kim over at Ramblings of a Not-So-Perfect Mom has the best button! She tells ya up front the way its gonna be.
Liz...over at A Belle A Bean and a Chicago Dog she is a super social

Thirty-something. Temporarily-retired marketer.
Head of an internet-shopping, SUV-driving, organic-eating, HFCS-avoiding, house-remodeling family ,Stay-at-home mom and Co-founder of Eli | Rose Social Media.










Jill over at Single Mom on a Budget is my Blogging/Twitter Buddy that Rocks! Jill and I connected by way of our mutual friend Jackie aka
With Just a Bit of Magic
.






Morgan over at The Little Hen House just plan rocks! Go and check her out!
How could I forget Maureen over at
Tatter Scoops
! She is
Indonesian by birth, westernized by heart, single mom - blogger - full time worker - lifetime learner - photography lover - travel junkie - writer wanna be - living in Jakarta, Indonesia.